Himalaya Helicopter Expedition 
By Dr. Jack Wheeler
Is seeing Mount Everest, the world's highest mountain at 29,032 feet, on your bucket list?
Funny thing is, trekkers who spend two weeks huffing and puffing up steep Himalayan trails to Everest Base Camp never see the mountain, except its point at the top, as it's always blocked by other mountains in the way.
Above is a view of Everest almost no one gets to see – the entire "Western Cwm" above the Khumbu Icefall, with the full Southwest Face of Everest on the left and straight ahead its sister peak of Lhotse, the world's 4th highest mountain at 27,940 feet.
No one, that is, except for those who've been with me on my Himalaya Helicopter Expeditions. This is beyond any doubt the single greatest one-week adventure it's possible to have on earth right now.
But going to Everest and Lhotse, we're just getting started.  We go to all eight of the highest, most magnificent mountains in the Himalayas. We visit remote Sherpa villages, and a hidden Tibetan kingdom forbidden to get to until recently – it's the last remaining true traditional Tibetan culture in the world.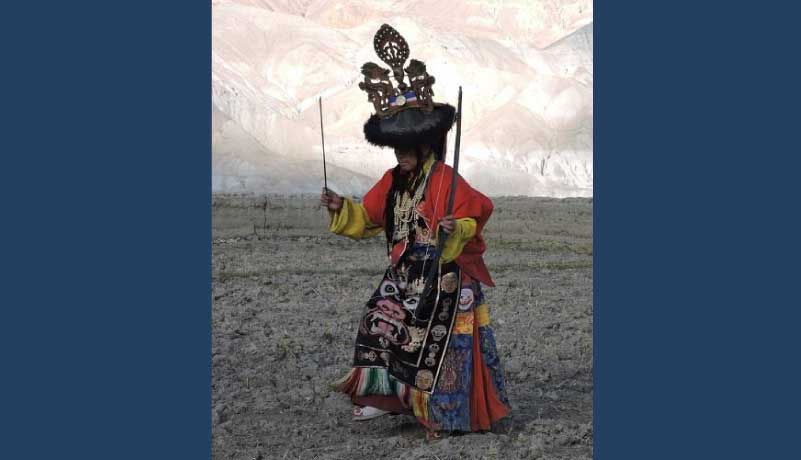 The High Lama of the Kingdom of Lo
The mark of a true adventure is that there's no way to really explain it – you have to experience it yourself to understand. Here's a group of my fellow adventurers who understand – standing at the base of Makalu, the 5th highest mountain in the world at 27,838 feet.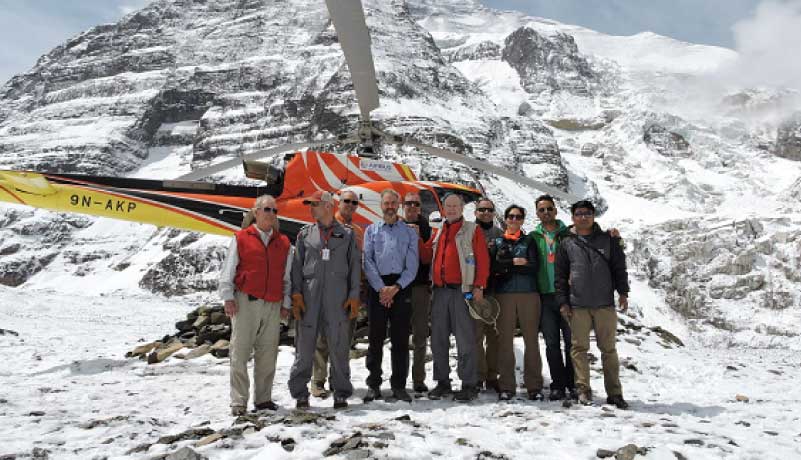 What you're looking at below would cause any world-class mountaineer's jaw to drop.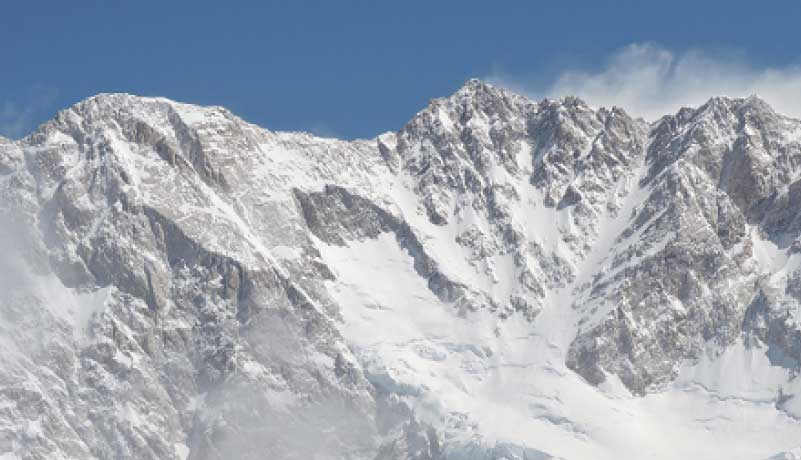 Kanchenjunga Main, 3rd highest mountain in the world, 8,586 meters/28,169 ft
The entire ridge line of the Kanchenjunga Massif is above 26,000 feet. What's even more astounding is that no one has seen what you're seeing before from this perspective – from a helicopter 23,000 feet high.
Helicopters don't fly remotely close to that height – except that our new specialized high-altitude Eurocopters can, and safely.  Our pilots are the best high-altitude pilots in the world.
Next to the border of Chinese Tibet lies the Hidden Kingdom of Lo. The people of Lo are Tibetans who retain the last vestiges of traditional Tibetan life on earth, unchanged for centuries.
Closed to all foreigners until recently, it takes trekkers two weeks to get there and back, walking on yak trails at 12,000 feet or higher. We have been given an exclusive permit to fly our helicopters to the capital of Lo, the Walled City of Lo Manthang.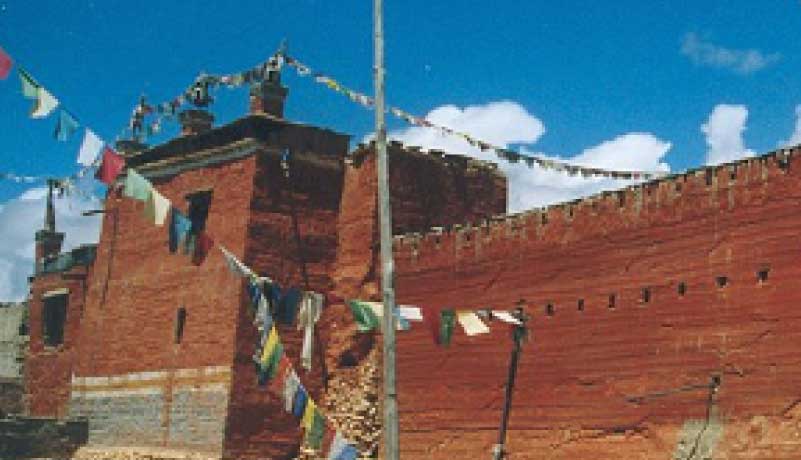 Founded in 1380 by the first King of Lo, Amne Pal, Lo Manthang is a UN World Heritage Site as the best preserved medieval walled city in the world. Many of its still-standing structures date from the late 1300s-early 1400s, including the King's Palace and Jhampa and Thupchen Gompas.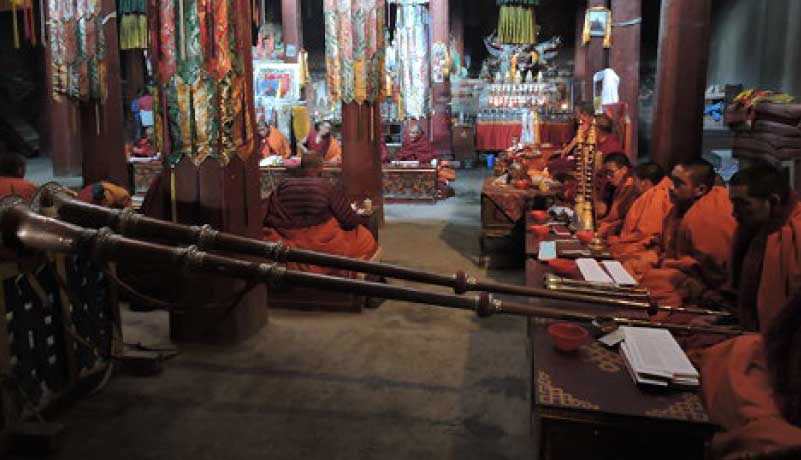 Thupchen Gompa
We visit a Drokpa Tibetan nomad encampment, where they'll welcome us inside their tents for a cup of yak butter tea.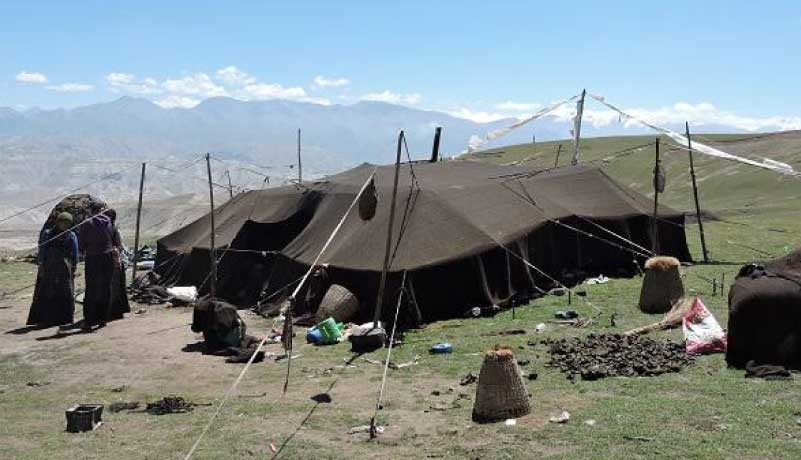 We then board our helicopters and are off to Dhaulagiri ("Dazzling Maiden" in Sanskrit). We get our first view as we depart Mustang.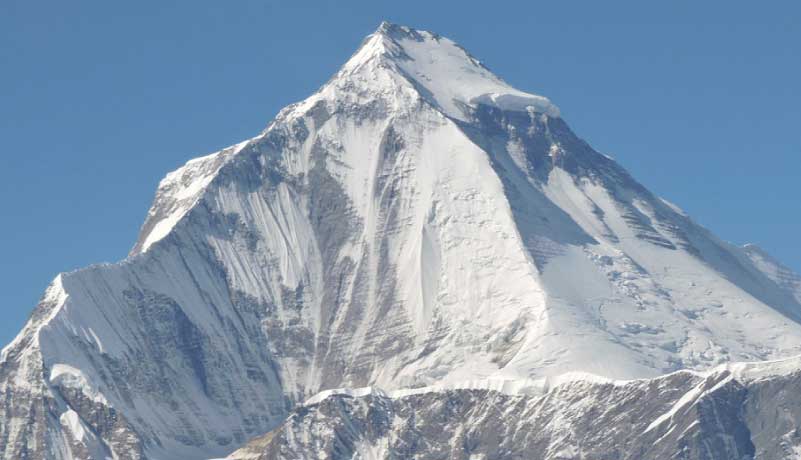 Dhaulagiri North and East Face, 7th highest mountain in the world at 8,167 meters/26,788 ft
We turn right here to traverse the French Pass to land at the Dhaulagiri Base Camp below the West Face: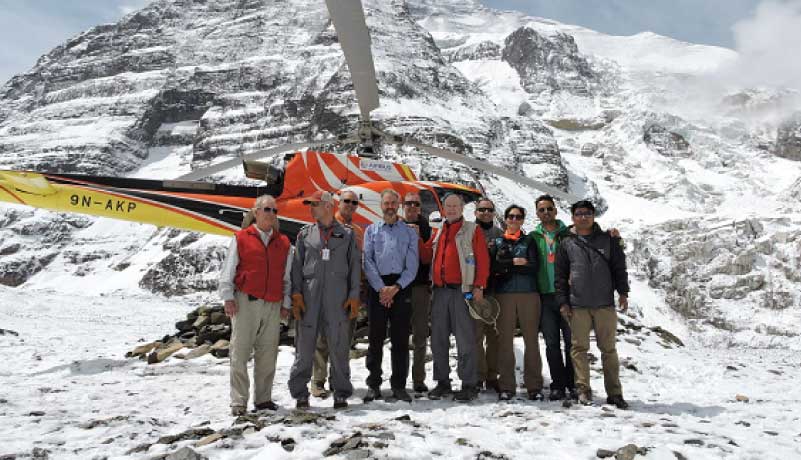 The legendary trek in all the Himalayas is to the Annapurna Sanctuary, a 13,000 foot-high basin surrounded by a gigantic cirque of Himalayan peaks. No foreigners were allowed entry by the native Gurung yak herders until the mid-1950s, as they believe it is the home of their Naga serpent gods.
And suddenly, there we are, in the heart of the Sanctuary with Annapurna I looming in front of us…
Actually, this is but a glimpse of what we're doing as there's so much more. Believe it or not, we do all of this in just one week.
If you'd like to join us for the most life-memorable adventure you've ever had, an experience you'll treasure for the rest of your life, go here for more photos, a full itinerary and the details:
http://himalaya_helicopter_ea.gr8.com/
Or, just write to me at: jack@wheelerwindsorexpeditions.com. I'd be happy to talk and answer your questions.
Now's your chance – carpe diem!  Life is short – the time for a great adventure is now.
I look forward to taking you to Everest and Beyond. And you standing beside me at Annapurna.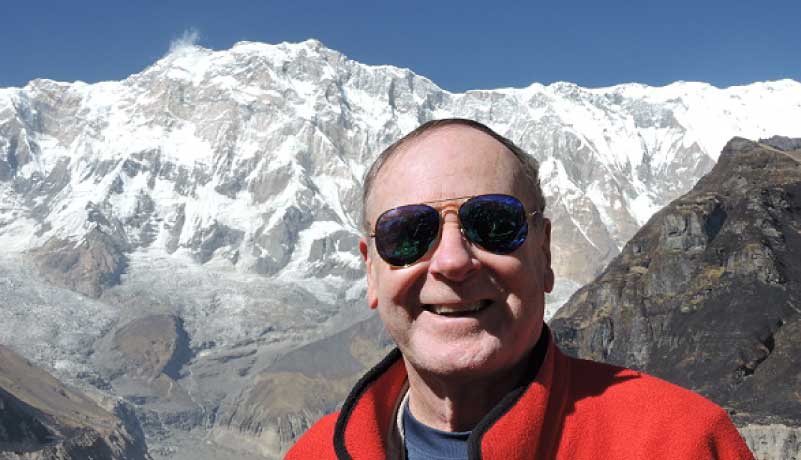 Jack Wheeler at the Annapurna Sanctuary